Welcome to the Black Virtual Assistant Training Program for Black (African American) Men and Women that will teach, support, and train you on how to become a Professional Virtual Assistant.
What's Included?
A private Onboarding Session with Regina – sharing everything about the program, listening to your goals,  answering your questions, and the first steps to getting started in your VA business.
Mentored to a Professional VA – you will learn how to communicate, respond professionally to emails as well as telephone calls. Virtual Assisting is not just about tasks, it's also about professionalism, attitude, and communication.
The Gig Board – includes opportunities to apply for legitimate VA gigs (I don't call them jobs, we're independent business owners – we're not looking for jobs!)
Black Virtual Assistants Directory – your business will be listed (after a thorough and complete review/approval) in the directory for businesses looking for VAs.
The Resource Gallery – includes contracts, invoices, checklists, templates, "how to" materials, scripts, training materials, books, software training, and more.
The Community Center – here's where you'll never be alone! Socialize, Learn, Grow, Support and Collaborate!
a Feature in the Black VAs Magazine
Intern Opportunities – The Intern Opportunity is where we will teach you how to be an exceptional non-paying intern into a professionally paid virtual assistant! We share all of the details about this in the members' area.
Access to our Private Facebook Group (paid members only)
The Black Virtual Assistants Bracelet (see image below)
---
The Investment
Membership Rate $147 down and $37 per mth access for one (1) year, cancel anytime you're ready! Plus you'll receive our very own custom made Black Virtual Assistant bracelet!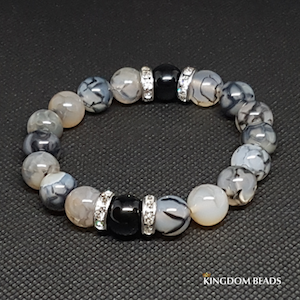 Created by Kingdom Beads
"The BVA custom bracelet is handcrafted of Dragon Vein Agate, Black Onyx and Stainless Steel CZ rondelles by Kingdom Beads."
---
Why is the membership so low? Because I want to share this with the masses of passionate men and women who are serious about having a professional virtual assistant business!
---
---
Cringe at monthly installments? Select the Lifetime Offer and never pay again!
"I dare you to give and get support so you can fly higher than you ever imagined." — Angela Jia Kim
---
Got questions first? Submit below…